The medical service of the pilgrimage is present only to treat medical emergencies or unforeseen circumstances.
You must therefore take with you what to treat your aches, blisters, small wounds, stomach aches … (see the question Life-changing advice for pilgrims)
Regular stops are planned every two hours or so with care and rescue points run by volunteer health professionals and the French Red Cross. Medical teams are also present on the bivouacs (white tent).

Religious communities also provide assistance with care (the little servants of St. John the Baptist and the sisters of the Society of St. Pius X).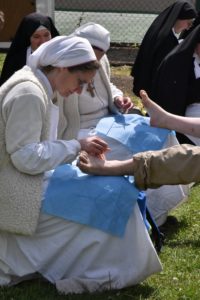 It can of course happen, even with the maximum anticipation, that something unexpected happens, that we need advice, or that we do not overcome a problem. That's why the medical service is at your disposal.
During care, health professionals make a "triage", based on the degree of urgency. The waiting time can therefore be felt.