The 2023 itinerary will be identical to the last pilgrimage.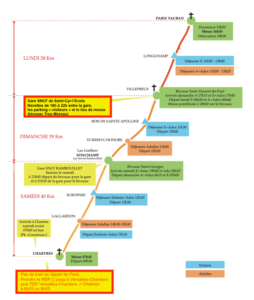 Rest stops:
Frequency: approximately every 10 km on the Adults course / approximately every 5 km on the Children's course.
Duration: it varies between 1h/1h30 (lunch stop) and 30 min (intermediate stops).
First aid stations & Pick-up shuttles :
Every 3 km or so (3/4 of an hour's walk) with a medical team at the service of pilgrims. If they are physically prevented from continuing the walk, the pilgrims will then be evacuated by minibus to the next stop or to a stop for tired pilgrims, and then taken to the bivouac. Any pilgrim who stops after lunch, will not walk again until the evening.
Shuttles to or from the pilgrimage . . .
Thanks to the shuttles organized by the 'Transport' teams of the pilgrimage (burgundy vests), you can join us along the way, or even leave earlier, if you do not have your 3 days off.
– Shuttles departing from Chartres station, on Saturday lunchtime, to reach the adults' lunch stop (in Gallardon). Other shuttles are planned on other days to reach some stops (see table below).
– Shuttles between the place of the bivouac and the nearest (or best served) station scheduled morning and evening. At fixed times, these shuttles take pilgrims who wish to leave the bivouac to the station and pick up those who want to join the pilgrimage.
To join the Pontifical Mass on Pentecost Sunday:
Visitor parking: Do not park on the D11 but on the Super U car park in Fontenay-le-Fleury, rue de la Démenerie or that of the Fontenay-le-Fleury train station. Regular shuttles will go back and forth between the car parks and the place of mass (bivouac Trou Moreau).
To join the procession in Paris, Whit Monday: appointment by your own means, at the lunch stop in the Bois de Boulogne or at one of the crossing points of the procession:
| | |
| --- | --- |
| 11:10 – 13:00 (Children) 11:50 – 13:25 (Adults) | LUNCH STOP children then adults at the Bois de Boulogne (near the Longchamp racecourse, ROUTE DE LA SEINE AT BUTTE MORTEMART). Google Plan. GPS coordinates: 48°51'05.7″N 2 °14'15.2″E or 48.851581, 2.237556. (metro 10, Boulogne J. Jaurès station 10 min walk via Avenue Ch. De Gaulle) |
| 13:00 | Departure from the Bois de Boulogne halt |
| 1:40 pm | Arrival at the Carrefour des Cascades in the Bois de Boulogne (metro 9, Ranelagh station 13 min walk) |
| 1:50 pm | Departure of the Procession at the Carrefour des Cascades |
| around 2:15 p.m. | Passage de la Procession à la Muette (metro 9, La Muette station) |
| around 2:35 p.m. | Passage to the Trocadero arriving from Avenue Paul Doumer (metro 9, Trocadero station) |
| around 15:00 | Passage to the Pont d'Iéna (RER C, Eiffel Tower or metro 6, Bir-Hakeim station 10 min walk) |
| around 3:30 p.m. | Arrival of pilgrims Place Vauban, Paris VII° (metro 13, St François-Xavier station 5 min walk via Avenue de Villars) |
| 4:30 pm | High mass Place Vauban, in front of the Cathedral of Saint Louis des Invalides |
| 6:30 pm | Dislocation |